Cabin Climbing Frame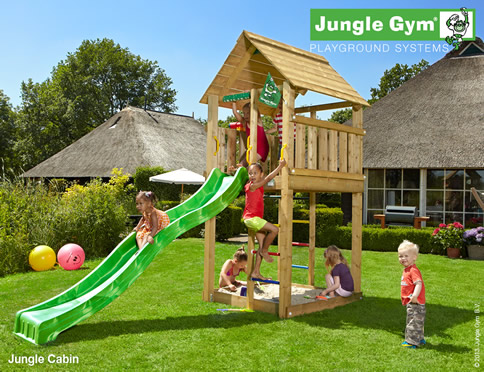 Our Price
Our Price - £675.00
Only for domestic use.
Only for outdoor use.
Maximum user weight is 50 Kg.
Not suitable for children under three years.
Suitable for children from three to ten years.
Playground Planner
A high tower with a sturdy wooden roof and climbing ladders located both at the front and back. The telescope supplied transforms the Cabin into a true watch tower. Tower leg dimensions - 70 x70mm (3x3")
All kits come complete with the necessary timber to complete the installation. A few components may need cutting to length. All timber is pressure treated against rot and insect attack.
Slide length - 3.0
Platform height - 1.5m
Included Items
StarOscope™
Ladder x 2
Sandbox
Ground Anchors plate x 4
Handgrips x 6
Bumper Pad™
Jungle Flag™
Slide Long
Instruction manual
Toolset
Bolt Caps
Sandpad & Leveller
Metal brackets
Safety Ball
Authenticity badge
Sandpit cover 150x160
Ground Cover
Jungling Cards™
Possible Module Extensions
CLICK TITLE FOR MORE INFO